Terrelle Pryor Hires Drew Rosenhaus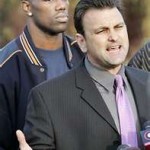 A few days ago, I wrote an article titled, Should Terrelle Pryor go to the NFL, UFL, or CFL? In which I went over Terrelle Pryor's newly found career options. In that article I said that the best option for Pryor would be to get out the spotlight and enroll at a Divison II school for 2011. But just as I predicted, Pryor is looking to enter the NFL as soon as possible.
PFT reports:
Look for Rosenhaus, a relentless marketer and promoter of his clients, to immediately begin touting Terrelle's potential value as a quarterback, with repeated public comparisons of Pryor to Cam Newton, the first overall pick in the 2011 draft.
Very interesting as this article infers that Pryor could potentially be picked as a receiver but of course the money is in Quarterbacking and Drew likes his fair share of the dinero. I predict Pryor to be selected by the Washington Redskins as a developmental Quarterback/WR.