Rams, Eagles, Giants, Redskins among Favorites to Sign Plaxico Burress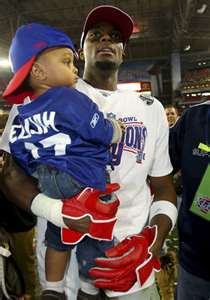 He's back!  If you have not heard by now, former Giants WR Plaxico Burress has been released from prison as of Monday morning June 6, 2011.  Cameras showed Burress embrace longtime agent Drew Rosenhaus and meet up with his family shortly after being released from prison.  Now that he is out the story is just where will the free agent land?
There are four distinct possibilities.
1. The Rams – Steve Spagnolo knows Plaxico from their days in New York together.  Young QB Sam Bradford needs weapons.  Right now the best pass catchers the Rams have is Mark Clayton, Denario Alexander, and rookie draft pick Lance Kendricks.  Adding the 6'5 Burress would help their redzone production and possibly get them in the playoffs.
2. The Eagles – Michael Vick has lobbied publicly for Burress however it just does not seem likely that this will happen.  There are many reasons.  First, the Eagles already have a loaded WR core.  Secondly, it doesn't seem like they are interested.  And thirdly, Brandon Jacobs said that the Eagles were in the running.  How would he know?
3.  The Giants – Plaxico could always return home although the Giants have an awesome receiving core with Steve Smith, Hakeem Nicks and Mario Manningham in the slot.  Burress probably wouldn't start and would have to check his ego at the door.  Is he willing to do that so soon?  Would Tom Coughlin have him back?
4. The Redskins – Dan Snyder has never seen a free agent he hasn't wanted to sign.  It just so happens that Plax would fill a big need.  If Santana Moss takes his talents to South Beach, the Skins would suddenly need a veteran pass catcher.  That's where Plaxico could find his fit.  If John Beck is going to be the QB, then you seriously have to think about getting him as many receivers over 6′ than you can get.