5 teams in talks on move to LA
AEG CEO Tim Leiweke (pictured at right alongside David Beckham),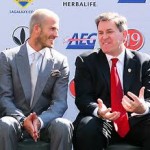 the pioneer in the get-a-team-to-LA movement, has been in chats with 5 teams, as reported on Friday. This Orange County Register article quoted Leiweke as saying while these teams are "in the mix… We're not packing any moving vans right now."
Leiweke has talked to representatives of the Vikings, Chargers, Raiders, Jaguars, and Rams about a possible change in location. The Jaguars, according to insiders and experts, are the most likely to make the move based on their lowly season ticket sales thus far and poor fan attendance overall the past couple of seasons.
AEG has already laid out a blueprint for a $1 billion, 72,000 seat stadium. AEG owner Philip Anschutz, according to Leiweke, is willing to pay whatever it takes to get an NFL team back in LA.