What's the future of Palmer and Ocho Cinco?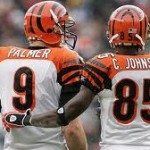 It was obvious during the draft that the Bengals were ready to move on from the Palmer/Johnson era. AJ Green and Andy Dalton look like they're the future of that Offense.
But what about Palmer and Johnson? The lockout has them stuck in Cincinnati, but that's no reason to not speculate where they could eventually end up.
Palmer
Best Fit- Washington. Palmer would love to play for a head coach who's won a championship. John Beck cannot be a serious Quarterback candidate for the Redskins if they want to be taken seriously. Palmer has played best when he can be a game manager and rely on the Defense for wins, and the 'Skins are building a pretty respectable defensive unit.
Where He'll End Up- Denver. Kyle Orton will be moved, and unless Tim Tebow or Brady Quinn can prove their worth, John Fox would love to get his hands on Palmer. Palmer probably reminds Fox of Jake Delhomme, who quarterbacked the Panthers to success during Fox's best years in Carolina.
Johnson
Best Fit- St. Louis. A year in Buffalo did T.O. a lot of good, and it would have the same effect on Johnson. Playing in a city without many distractions would allow Johnson to play his best. I'm sure Sam Bradford wouldn't mind having a savvy, reliable veteran to throw the ball to.
Where He'll End Up- New York Jets. Both Santonio Holmes and Braylon Edwards are free agents. That in itself creates a big hole at the position. Rex Ryan would love another character in the locker room and at press conferences. On a serious note, going up against Revis Island everyday in practice may make Johnson strive to be the best he can.