Wait a Minute.. Brady Quinn to Start in Denver?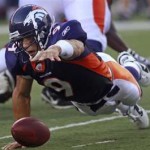 When I first saw this I thought it was a late April Fools joke or something similar.  After I made sure I wasn't on The Onion.com I realized that this is indeed a true story.  Profootballtalk reports:
"I can tell you unequivocally that if you talk to John Elway and John Fox," Mortensen said, "they will tell you emphatically that Brady Quinn is absolutely in the mix in terms of the competition for the starting job. They are not handing it to Tim Tebow. They are not handing it to Kyle Orton. They may have a depth chart to start out, but I know in communicating and speaking to both men that Brady Quinn is not forgotten."
Is this the same Brady Quinn that couldn't keep Derek Anderson off the field in Cleveland?  The same Brady Quinn who was traded for Peyton Hillis in the deal of the century for the city of Cleveland?  The same Brady Quinn who looked like he met his receivers in the parking lot during the preseason?
Honestly, I don't expect much to come of this.  Tom Brandstater was a better option than Quinn for the Denver Broncos.  But if Elway and Fox are serious about possibly starting him, I'm pretty sure that someone in Dove Valley is sipping that juice… shout out to Jamarcus Russell.