Teflon Don No More: Jim Tressel Steps Down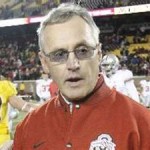 After 10 years as head coach and one national title, Jim Tressel has stepped down as head coach of The Ohio State University's Buckeyes. This comes off the shocking revelations that Tressel ignored several NCAA violations committed by star players Terrell Pryor, Boom Herron, and Devier Posey. All I have to say is Ohio State has got to do better.
What did Jim Tressel accomplish in his 10 years as head coach to garner the untouchable status he seemed to have? One national title, which was won by a player (Maurice Clarett) that I'd argue was probably ineligible at the time as well. Behind the sweater vest has been too many questionable players and events over the past ten years.
Yes, I am an Ohio State fan. Yes, I believe the NCAA should pay the players. But I also believe in trying to follow the rules as long as they apply. As long as the NCAA says you cannot have "improper benefits" then I expect the head coach of a top 25 school to turn himself into the compliance department when he learns his players are trading memorabilia like Poke'mon cards. Don't sit on the information for months then act stupid when all you-know-what hits the fan. Coach made his bed and now he must lie in it.
Going forward, I am sure more schools will get hit as the season goes on. USC and Ohio State aren't the only places improper benefits are happening. It's happening country wide. Coaches have to practice the motto of "CYA" more now than never.
What hurts a team worse?
Losing a couple players for a few games or losing it's coach… right before the season starts?
Chose wisely coaches. The NCAA is watching.