Janoris Jenkins Transfers to Divison II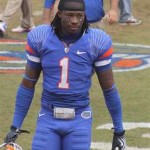 Former Florida CB Janoris Jenkins will forgo the NFL Supplemental draft.  Instead, he will be taking his talents to a FBS Championship Subdivison (Division II) team near you.
The Orlando Sentinel reports:
With one season of eligibility, Jenkins had a few options. Cornelio said he was looking for a Division II program. NCAA rules would allow Jenkins to play immediately at that level.

But Cornelio also dismissed Internet reports that Jenkins had decided to transfer to North Alabama, saying, "No, I don't know. I can't comment on that."

Cornelio said he plans to take visits to schools with Jenkins.
Jenkins is still the #1 rated corner on Mock Draft HQ going into 2012.  Even with the off the field stuff, you cannot deny his talents, hopefully he takes advantage of this second chance.  Very few times does one get a second chance to correct a multi-million dollar mistake.