Icon Teaching the ICON: Favre to Train Newton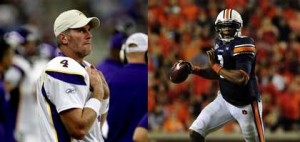 Not much news to report as we are still in a world with no football, but something interesting popped up in the news cycle this week. Apparently Brett Favre has reached out to #1 pick Cam Newton and offered to train with him this summer. The two ICONS share a agent in one Mr. Bus Cook.
This is huge for Newton. A legend like Brett Favre cosigning you before you ever play a game? That's major respect he will have when he finally gets into that Carolina locker room. Some people think that Brett isn't good at tutoring young QB's because he didn't help Mark Brunell, Matt Hasselbeck, or Aaron Rodgers when he was in Green Bay. But that is a different situation. Those guys were trying to take his job. That is essentially the job description of a backup QB.
And besides, none of those guys were…
THE ICON AND ENTERTAINER.