Didn't Draft a QB? Here are Your Options in 2012…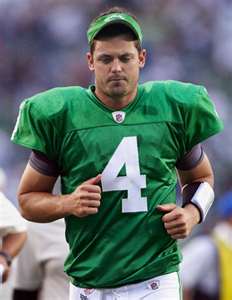 If you are a fan of the Cardinals, Dolphins, or Bills you may want to borrow a line from Vince Lombardi right now:
What the hell is going on out there?!!!
Is there a plan for your organization?  Or are they just waiting until the 2012 NFL Draft to reorganize with no plans on being relevant in 2011?  I know, it could hurt knowing that your team mailed it in in May but it certainly is an answer.  The QB crop of 2012 looks way better than the last one, even with the 6 QBs that went in the first 40 picks (as I correctly predicted on this very blog).
But as we all know the reality is the NFL is a business.  And the only way to make money is to put out a competitive product out there.  So what passers give these teams a chance to be competitive in 2011?
Here are a few guys to keep an eye on:
Marc Bulger- What? He's still playing? I hear ya talkin' (shout out Cam Newton) but yes, Bulger backed up Joe Flacco last year in Baltimore and still has a little thread on those tires.  Not a long term solution but if you are a team looking for a vet to man the ship for one season Bulger is your guy.
Donovan McNabb- Privately, us here at MDHQ thought that Mike Shanahan would target Ryan Mallett or Tyrod Taylor in the draft.  Well that never happened and McNabb is still owed that huge bonus if he suits up for the Skins on week 1.  Football is a business, so we know that won't happen and Donovan will be free to resume his career elsewhere.  Remember he owns a home in Arizona…
Kevin Kolb- The Eagles drafted Danny Watkins in the first round to protect Mike Vick and like that Kevin Kolb is probably on the market.  The Eagles will seek multiple high round picks for him, so trading for Kolb would be in lieu of drafting Matt Barkley or Andrew Luck next season.
Kyle Orton/Tim Tebow- Depending on what you read, one of the two QBs in Denver will be traded pretty soon.  Kyle Orton is older so he is more expendible as Elway and crew are going to anxiously wait to see if Tim Tebow is the man for them moving forward.  The Broncos probably want a 2nd or 3rd round pick for Orton which is more than a bargain for a QB that puts up the numbers Kyle does.