Live Draft Blog: Seattle Takes…James Carpenter?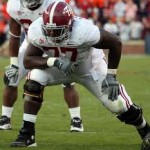 The guard from Alabama goes to the Seahawks.  I'm 100% sure no one won that ESPN $1,000,000 draft prediction contest now.  Carimi could play guard and graded out apparently higher… or not.  I knew the Seahawks wanted to grab Pouncey but I thought with him unavailable, they'd go QB.
Andy Dalton is somewhere waiting for his phone to ring.  But will it ring tonight? And Ryan Mallett, my favorite QB in this year's class, is still waiting to hear his ringtone as well.