Live Draft Blog: Ryan Kerrigan and His New Haircut to the Redskins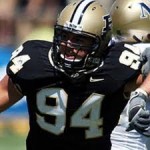 I almost didn't recognize him with the new haircut.  Brian Orakpo will be pleased.  Another OLB/DE to cause havoc with him in D.C.  I wonder how Jabari feels?
I know he wanted Ingram or Kerrigan so JB is probably pleased.  Defense is back in D.C.