Live Draft Blog: Quinn a Ram!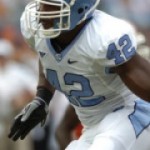 Robert Quinn to the Rams.  Remember in Mockception I wrote
You could mock a WR here, but if the Rams are staying true to their predraft reports of not trading up for Julio Jones, a DE will be the pick here.
And it happened.  I like Quinn's numbers and I think he will give Chris Long some much needed help!