Live Draft Blog: Heyward is a Steeler, Rich Get Richer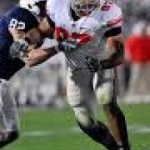 The Steelers make a fantastic pick, and get a top 15 talent with the 31st, yes 31st selection.  Insane.  All you have to do is look at how the Steelers draft if you want to know how to build a good team.  There is no surprise this team is constantly in the Super Bowl.
Ziggy Hood, Cameron Heyward, Maurkice Pouncey.  You build your team from the inside-out.  Period.  Too bad some teams don't get it.