Live Draft Blog: Castonzo to Protect the Sheriff Peyton Manning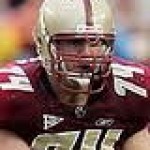 You KNEW this was an offensive tackle.  Polian basically told you, hell or high water he was going to correct his mistake of not taking Roger Saffold last year.  You got to protect The Sheriff.
Castonzo went a little lower than expected, but he still got to go to a good team, and still went first round.  Not a bad landing spot at all!