Live Draft Blog: Bears Select Gabe Carimi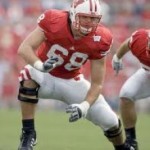 Another team selects someone to protect their All Pro QB.  6'7 310 lbs. will now be between your best pass rusher and Jay Cutler.  Add him to Chris Williams and the Bears might have something going there.  Hopefully Jay Cutler won't have to sit anymore games out with injury.  Keep him upright, and people won't have to wonder if he is really injured or not.
However with what the Lions did though, I am not sure Carimi alone is enough…. the Lions made THE power move of this draft.