Janoris Jenkins Dismissed From Florida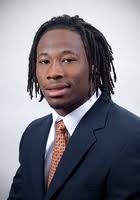 All star corner back Janoris Jenkins has been dismissed from the Florida Gators after being arrested on a marijuana related charge.  Will Muschamp is laying the smacketh down on the character issues that plague his Florida Gators team.
It is hilarious, because for all the "good" that Tim Tebow was doing, his teammates were getting arrested left and right under Urban Meyer's careless eye.  Not saying that Tebow isn't a good teammate, but faith messages DO NOT touch everyone.  Some people simply aren't going to change who they are and what they want to do, no matter how often they are preached to by their peers.
For Jenkins he will get a shot in the NFL because he is a really good corner.  He was probably leading the crop of the 2012 draft corners going into the season.  If there is a supplemental draft he will be a 4th or 5th round selection.  If not, he will be a college free agent whenever the NFL league year begins.  But who knows how long that will be.
I feel bad for Janoris but at the end of the day life is about choices.