Final Denver Broncos 2011 Mock Draft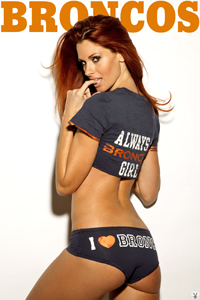 I will say this.  Going into this draft my favorite team, the Denver Broncos, seemingly were going to make the easy play and draft Alabama DT Marcel Dareus with the #2 pick.  But as I type this reports are leaking that the Broncos have zeroed in on Von Miller (the 230 lb linebacker) as their selection.  I think Miller has the potential to be a great player, but in a different scheme.
John Fox is going to be running a 4-3 eventually and Miller fits a 3-4 as a pass rusher.  Not as a 4-3 SAM linebacker/DE.  But with that said, here is close to what I think the Broncos will do.
(Jamie Edmondson for your viewing pleasure.  Photo by Jared Ryder )
1

Broncos

OLB from Texas AM

(First Round) The Broncos SHOULD take Marcel Dareus as he would make everyone on the defense better. And the fact that there is a talent dropoff at DT after the top 2 guys. But if Miller is truly the pick, then I have no choice but to put him here and hope that speed and quickness is somehow used effectively by Fox in his 4-3 scheme.

2

Broncos

NT from North Carolina

(Second Round) If the Broncos are to pass up on a DT in the first, they undoubtedly must feel there is first round talent in the second. The only guy that slightly fits that profile is Marvin Austin. He has a questionable motor, and to be honest Id much rather take Dareus or Fairley #2, but if the Broncos feel they can get two first round talents over one and are that in love with Miller then a DT will be the pick here.

3

Broncos

TE from Notre Dame

(Second Round) some feel Rudolph will not be here, and will be a first round selection. I beg to differ. If 4 to 6 QBs are taken in the first 40 picks, Rudolph will be here.

4

Broncos

OT from Auburn

(Third Round) First team All American, hasn't missed a game. The problem is that the Broncos may be starting a left handed QB that likes to scramble. Ziemba started as a RT then moved to LT so he has experience both places. No Ryan Harris = OT needed.

5

Broncos

S from North Carolina

(Sixth Round) Could fall due to injury concerns. The Broncos need to find a safety to at least play 3rd down so Dawkins can come off the field. Williams, if healthy is great value at this spot in the draft. And in researching this selection, I just found out he is from my hometown. So he stays in this mock. Shout out to the Ville! I really should figure out how to get Kendric in this mock too…. lol.

6

Broncos

RB from Maryland

(Seventh round) Bronco fans do I have to remind you how many times we have started over 5 different backs in a season?