Final 2011 NFL Mock Draft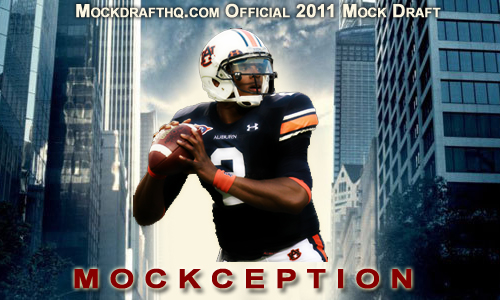 Christmas day is here! In just a few hours, the 2011 NFL Draft will kick off at Radio City Music Hall in New York City!  In what is the most uncertain draft of all times, the top college prospects will be selected by NFL teams that are currently in a court case with their players.  Rumors are that free agency may kick off at 12 pm tonight, but again do not hold your breath.  One thing is for certain though, we will have a draft.
This draft will be remembered by two things: which teams miss on Quarterbacks, and which teams make the best use of their gluttony of selections.  As many as six Quarterbacks could be selected within the first 50 selections, and if you ask me… no more than two are really worth the gamble.  Teams such as the New England Patriots and Denver Broncos have a stock of selections in those golden top 100 selections and could move down to acquire more players or move up to acquire an additional play maker.
But when it's all said and done though this will be the draft of one Mr. Cam Newton.  And hence is why this year Im titling my final mock draft as "Mockception."  The Panthers seem to be the lucky team locked in the Cam Newton Inception, without a totem or a kick from the outside to wake them up….
1

Panthers

QB from Auburn

Once again, I cannot bring myself to put anyone else at the top of this draft. Ron Rivera isn't going to give Jimmy Clausen the time of day. The Panthers look to add an ICON, and an entertainer to their team for better or worse.

2

Broncos

OLB from Texas AM

As a Bronco fan, you have no clue how much it pains me to put Miller here, but all reports say that he is the pick. Yes, even in a 4-3 defense with no defensive tackles the Broncos draft a 230 lb 3-4 linebacker #2 overall. And that's why I will not be surprised if they will be picking #1 overall next year.

3

Bills

DE from Alabama

Buffalo wanted to draft the icon, and entertainer here but Carolina made this pick easier for them. It probably was always Newton – Miller – Dareus/Fairley in that order for Buffalo and with two of the 4 gone this pick is easy to mock.

4

Bengals

WR from Georgia

A lot of people have predicted Blaine Gabbert would go here, but the more and more you read, teams picking in the top 5 are shying away from him for whatever reason (maybe they finally wizened up and decided talent is greater than need?)

5

Cardinals

CB from LSU

This mock is pretty vanilla so far, I know. With more and more reports that the teams in the top 5 are shying away from Gabbert and picking need, the Cardinals will go with the best overall player. Remember just a few years ago they made it to the Superbowl with a very similar DB in Antrel Rolle roaming their secondary. Peterson is Rolle but with legit sub 4.5 speed.

6

Browns

WR from Alabama

Does a team with a few solid but not "great" WRs go pass catcher here or do they turn their eye to getting a rusher? That is the question. With young QB Colt McCoy already on board and looking like he may be the guy, you want to make his job easier.

7

49ers

CB from Nebraska

Most people have Gabbert here, but is the 49ers need for a QB that great? Yes, they have a new coach, yes Smith and Smith are both just "ok" but is Gabbert a franchise guy? Many in quiet circles feel that he is not and you may see teams select need over Gabbert. Remember who said it first.

8

Titans

DT from Auburn

The Titans absolutely need a QB. This is true, but again will they drink the Kool Aid on Blaine Gabbert? Do you pass up a dominate pass rusher for a QB that may or may not be the guy? With such a cluster of "ok" prospects in the second round I'm telling you teams are going to simply draft better players and greater needs than grab Blaine Gabbert.

9

Cowboys

OT from USC

Rumors are that this pick is Castonzo or Smith. I give Smith the slight edge as he is an athletic freak, and the one elite RT prospect in this class.

10

Redskins

DE from North Carolina

The Redskins are in the market for a pass rushing DE/OLB. QB is a big need but as I said earlier with the uncertainty with the CBA, are teams really going to draft Blaine Gabbert/ Jake Locker in the top 10… especially if the league is structured under the 2010 rules? No way. The talent doesn't justify the salary when you can get one of the other guys 30 picks later.

11

Texans

DE from Missouri

Is Conner Barwin going to come back healthy? And if he does can he improve on 3.5 career sacks? Too big a question for this team.

12

Vikings

QB from Missouri

The Vikings are going to draft a QB with this selection, it just comes down to what one is left. If its Gabbert they will take him. If its Locker, they select him.

13

Lions

DE from Clemson

Though he is free falling, I posted a few days ago on my blog that the Lions were one of the teams that submitted Bowers to be checked by their medical staff and actually cleared him.

14

Rams

DE from California

You could mock a WR here, but if the Rams are staying true to their predraft reports of not trading up for Julio Jones, a DE will be the pick here.

15

Dolphins

QB from Arkansas

I want to put Mike Pouncey here, I really do. But keep in mind that the Fins have ZERO second round picks. If there is going to be a rookie QB in Miami he will be selected here. Remember, teams will not be able to trade players in this draft.

16

Jaguars

DE from Purdue

The Jaguars made a monumental mistake not selecting Tim Tebow last year, and as a result the team will end up being moved to Los Angeles in the near future. Maurice Jones Drew will be pleased. Either way, last years selection of Alualu paid small dividends but this line needs an end. Kerrigan is the pick.

17

Patriots

C from Florida

Bill Belichick struck gold from Florida with his pass catching tight end Aaron Hernandez. Mike Pouncey is a physical player who has shown a willingness to play multiple positions on the offensive line. Sounds like a Patriot pick to me, especially when Logan Mankins is trying to get out of town if he isn't paid longterm.

18

Chargers

DT from Illinois

The Chargers either need a upfront lineman or a OLB. I expect Larry English to get another year or two to prove himself so the Chargers need to draft someone upfront to help keep blockers off him. While not a true nose tackle, Liuget is the highest rated DL on the board and in this year's draft talent and need will trump picking for scheme or fit.

19

Giants

OT from Boston College

The Giants will entertain the services of Castonzo, Carimi, or Pouncey here. I'm reading that they like Castonzo so I give him the nod over Carimi.

20

Buccaneers

DE from Wisconsin

I am not buying any of this DaQuan Bowers to 20 talk. That is just Bucs homers looking for the next Gaines Adams… "hey he even wore 93 at Clemson!" Take JJ Watt and be happy.

21

Chiefs

OT from Wisconsin

The Chiefs only have three tackles on their roster, and only Branden Alberts is close to a full time starter. Carimi would give them young bookends to run behind for the next 5 years.

22

Colts

OT from Colorado

Any time your GM openly admits the guy he picked last year in the first round is a bust, and names the player he should have picked (OT Rodger Saffold) you already know he is going to fix his mistake.

23

Eagles

CB from Colorado

Mr. Swagnificent is coming to Philly. I think with Mike Vick in that locker room he actually won't be an issue.

24

Saints

DT from Temple

The Saints have to at least attempt to find someone to stop the run. Marshawn Lynch had no business running through 56 tackles on a game winning run against them in the playoffs.

25

Seahawks

QB from Washington

The fourth of 6 QBs that are going in the top 50 picks. Locker is a RAW, RAW, RAW prospect and in any other circumstance would not be a first round pick with the way he played last year. But when Matt Hasselbeck's salary demands grow to be too great and the hometown hero is on the board staring at you, you don't pass him up. You don't pull a "Jacksonville Jaguars."

26

Ravens

DT from Ohio State

The disappointing way Ohio State played down the stretch hurt Heywards stock, but Ozzie Newsome is no dummy. Heyward has the talent of a top 10 pick, he just didn't get his numbers. Playing next to Haloti Ngata will make life easier for him.

27

Falcons

DE from Iowa

My question is do you take local prospect Justin Houston and his failed Marijuana test here or Adrian Clayborn and his erb's palsy concerns? Drugs are something that teams usually don't make a big deal over (see: Brian Cushing and Clay Matthews, allegedly) but the Falcons have been burnt by the young Michael Vick and will do whatever it takes to not have to go back down that route. Just make sure Adrian has a chauffeur because he likes to rack up parking tickets and allegedly fight cab drivers.

28

Patriots

RB from Alabama

The Patriots will probably trade out of this spot, or trade up to the top 10 and get Julio Jones. But in this trade free mock, I'm going to project Ingram here. Tough runner with a knee concern, should last longer with BJGE and Woodhead spelling him.

29

Bears

NT from Baylor

The Bears are another team that has to stop the run on a more consistent basis. However, with Jay Cutler in his prime they NEED a tall WR for him to throw too. Ultimately I think that a DT will draw their eye over a Justin Baldwin.

30

Jets

DE from Arizona

Jason Taylor will not play forever, or he may not ever play again. Vernon Gholston tied me for sacks in 2010. This is not good.

31

Steelers

OG from Baylor

They would have preferred Pouncey's brother at this spot, but either way a guard will help them in a big way. Watkins' age is a little concern but this is a veteran team that will help him adjust quickly. And, he just fits in with the group they already have, a bunch of big strong country boys.

32

Packers

OLB from UCLA

The Packers are openly looking for a OLB to team with Clay. I don't think that Ayers will be a mid first selection like others, but at this point, with Brooks Reed gone he is the best prospect on the board at the position. Consider Bruce Carter as a shocker as well.