Daquan Bowers' Knee Has Been Cleared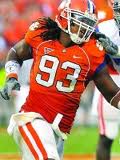 While many have speculated and created rumor over the status of Daquan Bowers knee, it seems that he have been given a clear bill of health by at least two NFL teams (Cleveland, Detroit).  Yes, Tampa Bay fans that means that Mr. Bowers will not be tumbling into the 20's.  He will definitely be selected in the first round as well contrary to what doomsday bloggers have predicted.  Bowers is going to be ok and can be plugged in as Detroit's pick at 13 if he is available.
"Our doctors have looked at him 100 times," Heckert said. "He went to the recheck, so we've done our due diligence. I don't want to get into all the medical stuff, but we think his knee is going to be all right." While neither GM has gone into details, their comments suggest concerns about a possible degenerative condition in Bowers' knee have been overblown.