5 Things Cam Newton Did Wrong on Gruden's QB Camp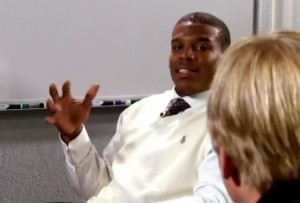 By now you all have seen the Jon Gruden QB camp segment with Cam Newton.  If you go to any football forums people have been ripping Cam for everything from what he wore to his laxed attitude. The guy clearly lives in his own world, whether that is good or bad.  He is bizarre, yes, but still the guy is 6'5 235 and won the Heisman and National Title.
On the show Gruden tried his best to bring Cam out of "Cam World" and into Planet Earth but there was no getting through.  Here are 5 things that had me cringing as I watched the program.
1. Could Not Name an Auburn Play at Short Notice
Really? The QB could not give Gruden any play?  ANY play? I know Auburn ran a different kind of play system but you're on national TV for goodness sake.  Make something up!
Gruden: Give me a play at Auburn
Newton: Ahhhhh….. ummm… you got me.
2. Used the Analogy of a Gun
Gruden: What do you think about the critics?
Newton: I like to use the analogy of a simple gun.
Gruden: You like to… WHAT? Say that again?!!!!!!
And this ties into number three…
3. Didn't Recognize the MANY Times Gruden Tried to Climb Him Out a Hole
Jon Gruden tried his best.  He covered for Cam on the initial playcall question, then gave Cam an out from the gun analogy.  But Cam living in Cam World….
4. Didn't Take Responsibility For Changing The Play in the National Championship
On the goal line, Cam Newton was instructed to take a knee and set it up for his field goal kicker.  Instead, he changed the play with his interior linemen and tried to sneak the ball in for a score.
Not trusting your coach? In the NFL, that can get you a permanent seat on the bench.  No coach is going to pony his future to a QB that changes plays on  him.  Not to mention, Cam never took full responsibility for it.  He simply said "I know it wasnt the right thing to do…" and justified why he did what he did.
5. Wore His Sunday's Best to a Football Meeting
I'm being funny here, but I have read that people think that Cam was playing up for the cameras via his wardrobe.  Knowing that Gruden was going to have him run a workout, why not just show up in some athletic gear like the other QB's did?
It is clear that Cam Newton is going to continue to live by the rules of "Cam World", for better or worse.  If you wish to see the program here some of it: