32 in 32: Who Will the Jets Draft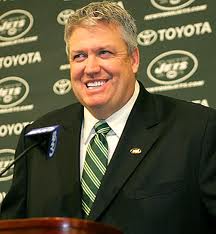 We are almost there! After today only two more teams left in the 32 in 32 series, the Super Bowl participants Packers and Steelers.  But today let's talk about the J-E-T-S. Jets!
The Jets were a team that made it to the AFC Championship in 2009 and 2011, making them quietly the most consistent elite team in the game today. If this were the Patriots, Colts, or Steelers going to back to back AFC Championships, ESPN would be blowing them up right now as the preseason favorite to break through and win it all in 2011.  But since this is the Jets, Mark Sanchez, Rex Ryan, and LT, not exactly your media darlings, ESPN and others act as if the Jets aren't literally knocking on Mr. Lombardi's door screaming "Let me in, Let me in now!" like Nelly on 'Country Grammar.'
The pick here will clearly be a defensive lineman.  Last year the Men in Green relied heavily on Trevor Pryce, Jason Taylor, and Kris Jenkins who all will be on the wrong side of 30 this coming season.  Vernon Gholston will probably be asked to take his talents elsewhere, leaving the cupboard not quite bare but almost in the medowlands.
So who will the Jets look too replace their aging defenders with? Here are the candidates:
1. Cameron Heyward, DT/DE The Ohio State University
Cameron Heyward is a player that for some odd reason has slid off many teams draft boards while a player with nerve damage (Adrian Clayborn) has leaped ahead of him.  If Cam falls, then Ironhead's son will probably be wearing the green and white while replacing fellow Buckeye Vernon Gholston.
2. Brooks Reed DE Arizona
Brooks Reed is gaining momentum as a late first rounder.  The Packers may be interested in his services, but with the Jets having such a tremendous need at the position he may be gone before the Pack even selects…
3. Phil Taylor NT Baylor
With big Kris Jenkins possibly retiring due to injury, another big man is needed.  Rex isn't going to get out there in the three point stance.  However, don't put it past the Jets to draft another first round CB or even a WR here with all of the free agency uncertainty at those positions on their current roster.
Thank you for reading. Now lets go get a got damn snack!