32 in 32: Who Will the Colts Draft?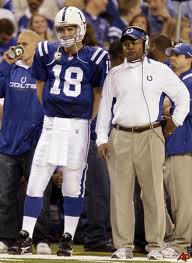 This will be the easiest 32 in 32 blog post I've had to create.  Before we get into the picks lets talk about what the Colts went thorough last season.  Basically the Colts were a team last year that simply ran out of healthy players at the end of the season.  Anthony Gonzalez, Austin Collie, Joseph Addai, Bob Sanders, were just a few of the big names on the Indianapolis roster that ended up on the injured list sooner or later.
Peyton Manning had another very good year.  He struggled in a few games down the stretch, but you really cannot blame him.  When you are throwing the ball to guys that you barely know that is going to happen.  Next season Peyton should have another 30 touchdown 4000 yard season barring injuries.
On defense the Colts fluttered.  Bob Sanders again was not healthy.  First round pick Jerry Hughes gave them absolutely nothing in terms of production.  It even got to the point where GM Bill Polian openly admitted he should have drafted Roger Saffold instead.  And with that said… here is how he will correct that wrong:
1. Anthony Castonzo OT Boston College
If he is available, the Colts will not delay in taking him.  This team is in need of a young lineman and Castonzo will be that guy if he is available.
2. Nate Solder OT Colorado
Depending on what you read, Solder will either be gone in between the 10-15 selection or he will be available later.  If he is available later and Carimi and Castonzo are gone, expect him to be the selection.
3. Derrick Sherrod OT Mississippi State
Yes, you are getting three straight OTs here.  Anytime when the GM openly admits he should have drafted someone else, you already know where his eye will be fixated.  Granted there is still the need to replace Bob Sanders but that can happen in rounds 2 or 3.