32 in 32: Who Will The Bears Draft?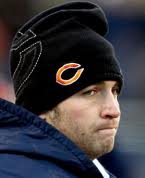 10 days to go and the 32 in 32 series is back after brief hiatus!  Let's just jump right into things and talk about the Monsters of the Midway, the Chicago Bears.
Last season the Bears climbed into the playoffs on the arm of Jay Cutler's strong second year as a Bear and the strong all around game of runner Matt Forte.  It seemed almost as if the Bears were ready and willing to take the NFC crown, but all hopes were dashed when divison foe and eventual NFL Champion Green Bay Packers came into town and dusted the Bears off with a 21-14 victory.  Greg Jennings notched over 130 yards receiving in the contest.
The Bears also finished the game without QB Jay Cutler.  Cutler was "injured" in the contest and forced to watch third string QB Caleb Hanie  try to get the Bears in the Super Bowl.  While it's neither here nor there, Cutler was later spotted by TMZ walking around seemingly uninjured.
So who will the Bears draft in the 2011 NFL Draft after last year's epic fallout? Here are the candidates:
1. Stephen Paea DT Oregon State
The strongest defender in the history of the draft would go a long way in fixing up the Bears running defense.  In the NFC title game, unknown runner James Starks notched 70 effective yards on them.
2. Nate Solder OT Colorado
Nate Solder would bring some youth and another prospect at tackle along with Chris Williams to the Bears line.  The Bears currently on have three tackles on their roster, and with free agency very likely to start after the draft, the chance of this pick being a lineman has increased.
3. Leonard Hankerson WR Miami
There are some draft pundits that believe he will be a first round pick.  I am certainly not in that group, but as the Bears have no tall wide recievers and Hankerson being the highest rated big receiver the Bears could get, it just may happen…