32 in 32: Who Else Will The Patriots Draft?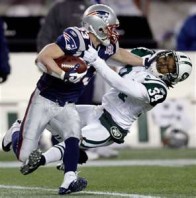 The New England Patriots have not just one but two premium first round selections in this NFL Draft thanks to a trade with the Oakland Raiders. While the departure of Richard Seymour was felt strongly on that defensive line, the Patriots are at least in the position to try to replace him with one of their first rounders. Many pundits including myself believe that the Patriots should actually attempt to move up and get Julio Jones or AJ Green, but if they stand pat what are their options?
Really it comes down to what side of the ball gets addressed with the first pick. If they go defense first, then maybe they get a offensive lineman or a running back here. If they go offense first then maybe get the Richard Seymour replacement at this point.
Here are the top 3 candidates:
1. Justin Houston DE Georgia
The more and more I read and watch on Houston he becomes one of my favorite defensive ends in the draft.  I like him more than Kerrigan and Clayborn.  Houston posted mind boggling numbers for a player his size, running a 4.5 forty yard dash at well over 260 lbs.  That combined with the fact that he has lined up and had success at defensive end AND linebacker makes him almost a lock to be this pick.
2. Danny Watkins G Baylor
Is Logan Makins going to be traded? Eventually, yes, he will.  If your name isn't 'Brady' you aren't going to get that big money second contract from the Pats.  The Patriots for better or worse have a system that relies on a revolving door of young talent and Mankins' contract puts him on the wrong end of that door.  If Watkins is there, he could be the pick.  The only knock on him is that he is already 27 and a little raw but as we all know if he does play well, his second deal won't be with the Patriots any way.
3. Mikel Leshoure RB Illinois
The New England system relies on passing to set up the run, but when they run there isn't very much game changing success there.  Danny Woodhead has carved out a niche as a guy that can catch the swing pass and take it outside.  BenJarvis Green-Ellis is a fantastic goal line runner, but is either he or Woodhead a top "every down" talent?  Probably not, and Fred Taylor can't be counted on at this point as well.