Todd McShay's New 2011 NFL Mock Draft is the Worst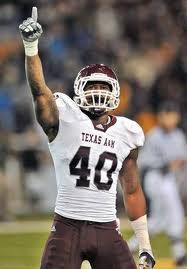 Todd McShay's Mock Draft v.3.0
As seen on ESPN:
1. Carolina – Marcel Dareus, DT Alabama
Not a bad pick.  But this is about the only pick I am going to compliment.  Everyone cover your eyes.
2. Denver – Von Miller, DE Texas A&M
TERRIBLE PICK.  Why would a team transitioning to a 4-3 draft a 230 lb DEFENSIVE END?!!!! We already have the 5'10 Elvis Dumervil one of the smallest DEs in the game.  This does NOTHING to help Denver's real problem: stopping the run.  Just a God awful pick and McShay lost all credibility here.
3. Buffalo – Blaine Gabbert, QB
McShay is on the Gabbert bandwagon hard, and kinda infers that Gabbert is the only selection worthy of this pick. But it gets worse.
4. Cincinnati – AJ Green, WR
Nice pick but McShay says that Cincinnati "Only would take Gabbert?" if they wanted a quarterback. What is that implying?
5. Arizona – Cam Newton
6. Cleveland – Daquan Bowers DE
A "Major Steal" in the words of Mr. McShay. Yeah a major steal because you have Denver drafting Von freaking Miller.
7. San Franciso – Pat Peterson CB
No qualms. This is where he should go.  But I'd take him over Von Miller in Denver.  If Denver is going to ignore stopping the run, at least get the "best" prospect that we don't need.
8.Tennessee – Nick Fairley DT
I seriously doubt Albert Haynesworth Jr. would go to Tennessee that is just too funny.
9. Dallas – Tyron Smith OT
10. Washington – Julio Jones WR
I know a lot of Washington fans love Julio over AJ Green, but McShay does not.