The Broncos are Definietly Not Drafting Patrick Peterson (Bannan and Williams Cut)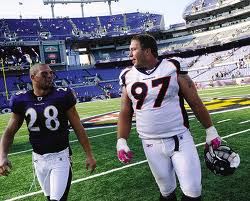 To those of you that I have been going to war with over Twitter messages, replies, and forum threads, it looks like I may be able to pat myself on the back on this one.  As of today March 7th, it looks like my Denver Broncos are definitely NOT drafting cornerback Patrick Peterson number two overall.
John Fox has publicly said that the roster will undergo a lot of changes, and the first major change has been to let go of defensive tackles Justin Bannan and Jamaal Williams, two par time starters for the Broncos during their 2010 (4-12) campaign.  But why would the roster not undergo major changes?  The Broncos historically have not been able to stop the run for almost 6 years now.  Darren McFadden looked like the Terminator against the Broncos last season.  Jamaal Charles did "the dougie" in the endzone more than I would like to remember, and rookie Ryan Matthews even had a big game against Denver in what what otherwise a disappointing rookie year.
All signs are pointing that the Broncos will be drafting one of the many talented defensive linemen available in this class. Da'Quan Bowers, Nick Fairley, Cameron Jordan, J.J. Watt, and Robert Quinn are among the candidates to be taken with the #2 pick.
If Carolina chooses Fairley (it looks like he will be the pick) then Denver will most likely take Bowers with a huge smile on both John Fox and John Elway's faces.