Say It Aint So: Elway's Interested in the Icon Cam Newton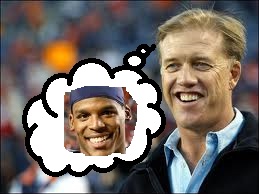 Very interesting news is coming out of Dove Valley right now.  Team President, John Elway, has made it publicly known that the Broncos are actively evaluating the top QB prospects in the 2011 NFL Draft.  Elway has even gone on record that he has a very high opinion of this QB class.
His exact words:
"This group is very talented," said Elway, the Broncos' former quarterback who is running their football operations department. "It's very rare that you have three guys who are at least 6-4, 230 and run a 4.6."
While this group is very physically talented, has John seen any of their games?  Cam Newton is basically John Riggins at QB with a decent arm,  many think Blaine Gabbert is the product of the spread offense, and Jake Locker is the most inaccurate QB to come into the draft in a while.  None of these guys bring anything different than the Broncos don't already have on their roster at QB.  Now if we are talking about Christian Ponder or Andy Dalton, then I'd agree.  There may be some talent worth cultivating there.
Anyways, Mr. Elway goes on to say:
"We're always looking for that guy," Elway said, when asked specifically about the so-called "franchise quarterback of the future." "We may already have the guy who can pull the trigger and win us a championship someday. We may have him. We don't know. We believe in Tim but he's not there yet"
This is a very telling quote.  While publicly the Broncos are behind Tebow, the quotes that come out of Dove valley tell a much different story.  Anyone who can read between the lines can see that Tebow is likely to end his career in something other than a Denver Broncos jersey.  It's just a matter of if they move him next season or the year after.
But drafting Cam Newton?  I just cannot see John Fox and John Elway doing this.  Fox just went through rookie pains with Jimmy Clausen, and Elway knows that he has to thread lightly with the Tebow situation.  He's going to keep Tim around long enough for the fans to feel "he had a shot."
Could the Broncos be making this information public to gauge trade interest? That is always a possibility, and probably what the Broncos are doing.  Especially if they like Da'Quan Bowers, swapping picks with Arizona or Cincinnati would still give them a shot at Bowers and also sweeten their pot of draft picks!
Source: Denverpost.com