NFL.com's Brian Baldinger Says Peterson Will Go #1 Overall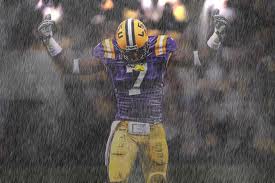 In what has to be the most interesting mock I've seen posted publicly in a while, Brian Baldinger of NFL.com says that Patrick Peterson will be the #1 overall draft pick to the Carolina Panthers.
I have to wonder what is in his cornflakes because when has a NFL team ever taken a corner #1 overall? Oh yeah, never. And there is a reason why.  When you are bad enough to pick in the top 5, your problem is almost always in the trenches or at QB.  Failing to address those areas and select a corner makes no sense.  I don't care how good he is.  You will never see coach build a team off cornerbacks first.  There are just more pressing needs, and without fixing the front four it doesn't matter who's at corner because he is going to get burned.
He also goes on to project a few other interesting selections such as Robert Quinn to the Bengals, and Cam Newton to the Cardinals.
If you want to check out the rest of his selections go to NFL.com.