Mel Kiper's Mock Draft v3.0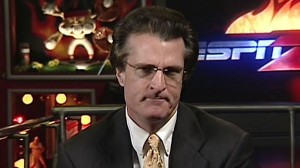 For those of you wondering what "the hair" has updated his projections too, I have them for you.  Hot off the presses, here is Mel's mock draft version 3.0!
Now of course I cannot post his whole mock but if you are proficient in Google Fu maybe you can find it… or you can just go to ESPN.com if you are an insider.
Mel's top picks:
1. Carolina – Blaine Gabbert, QB Missouri
My thoughts: Blaine Gabbert is NO Sam Bradford, or even Matt Stafford.  There is no way Carolina can afford to make a pick this risky, especially after drafting not one, not two, but three QBs last year (yes I know Edwards is a WR now but he was converted back at the end of last year in an emergency role).
2. Denver – Nick Fairley, DT Auburn
My thoughts: I would rather my favorite team not take this gamble.  Fairley was dominate collegiately, but I think Dareus projects to be the better pro and Bowers is the best value.  Yes, we have several DE's on the roster right now but I would much rather have Da'Quan Bowers on the roster than wait another season for Robert Ayers to turn the light switch on.
3. Buffalo – Marcell Dareus, DT Alabama
My thoughts: Great pick Mel, though I still think Chan Gailey will draft the ICON and entertainer here.
4. Cincinnati – Cam Newton, QB Auburn
My thoughts: Over AJ Green? Is Carson really going to retire? This organization never caved into Ochocino's threats so they will change with Carson? Not likely. They pull his card and draft a WR here.
5. Arizona – Von Miller, OLB Texas A&M
My thoughts: Fantastic pick.  Maybe they go QB later?