Marcel Dareus is Your New #1 Overall Prospect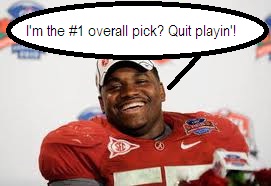 According to ESPN, Marcel Dareus is the player that helped himself the most at this year's combine going from a probably 3-5th overall player to the #1 or #2 overall selection now.  So what has changed in just a few days?
Well really, nothing but you know how it is this time of the year.  The slightest piece of news can send a player hurling to the top of the board or all the way out of round one.
The only major thing that changed was that teams finally got official measurements on all of the players which caused the hype machine to cool on Nick Fairley.  Fairley once thought of as a 6'5, 300 lb. prospect is really only 6'3 and 290 pounds.
Ouch.
Dareus measured as expected and finished with a faster shuttle time than Fairley despite being a few inches and several pounds larger.  Fairley's size is now going to hurt him going forward but he will still likely be a top 5 selection.  If anything, the combine caused these guys to flip in ranking more so than anything.  Teams that were checking out Fairley may be more apt to go ahead and take Dareus over a Bowers or Robert Quinn because these guys are being looked at more and more as the number 1 and 1A options for defensive tackle.
One of these players is guaranteed to be a Carolina Panther, and the other is destined to be a Bronco, Bill, Bengal, or Brown.