Dont Draft that RB Just Yet: Tiki Barber Unretires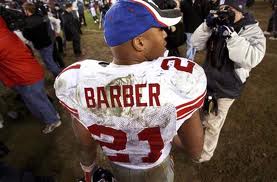 36 year old retired runner Tiki Barber has filed to comeback to play professional football again.  When Tiki retired I was stunned because he was reglarly ripping off 150+ yard games at the end of his final season.
It seems like Tiki has interest from more than one team and is going to get a shot at filling a minimal role on a team somewhere.  My only question is after 4 years of not getting hit is Tiki up for the grind and tear again? We will have to see.