Andy Dalton Working Out With Browns, Patriots, Bears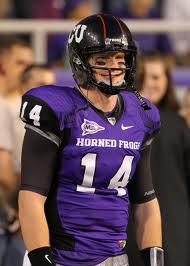 Just in-case your favorite team decides they do not wish to draft and entertainer and an ICON at quarterback this year, there are many other very adequate options later in the draft such as TCU's Andy Dalton.  Dalton has reportedly lined up a laundry list of private workouts with teams including the Browns, Patriots, and Bears.
The Jaguars, Bengals, and 49ers have also visited TCU as well.  All of these teams could benefit from having a young passer like Dalton developing on the roster.  He may not be a starer from day 1 but down the road he may develop into that gritty Jake Delhomme/Jeff Garcia type of QB that just gets the job done.
Dalton is projected to be a 3rd or 4th round pick in this year's NFL Draft.