5 Teams That Should Probably Make a Trade in the Draft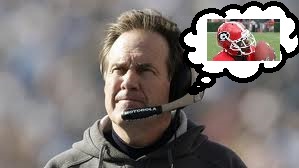 We are less than one month away from the last little glimpse of football we may have all year, the NFL Draft.  While the millionaires and billionaires duke it out, fans are steady projecting the moves and strategy their favorite teams may make.  At least I am (Fox, Elway, and Xanders please dont screw this year up!)
Anyways, an interesting topic this year will be the trades that teams can make.  Because teams can only trade picks for picks we may see less blockbuster deals and more strategic deals come into play.  It's going to take a very cunning and focused GM to leave with the players he wants this year.
With that said here are 5 teams that I think need to make a trade to secure a great draft:
1. The Denver Broncos should trade out of the #2 spot
Yes.  This is my favorite team and I am hoping that they trade out the highest draft pick they've had since I can remember.  Why?  Simply because the Broncos need A LOT OF HELP on the defensive end of the ball.  Also cutting Justin Bannan and Jamaal Williams right off the bat didn't do much to alleviate that issue as well.  Trading down to the 6 or 7th spot for Da'Quan Bowers and allowing a team to get Blaine Gabbert or Patrick Peterson would not only stil net the Broncos a great pass rusher, but also another selection that can be used on a big body as well!
2. The Arizona Cardinals should trade up if they really want Blaine Gabbert
There is a lot of rumor around how much they like Gabbert, and how much they like Skelton and Max Hall.  But if the rumors about their fixation with the Missouri QB are true then there is no way the Cardinals can stand pat and hope he falls into their laps.  Trading past Buffalo is going to be the only way to make sure they get him (yay for Denver).
3. The Patriots should trade… up!
Many people have speculated that the New England Patriots will probably trade down and stockpile picks.  That has been their strategy as of late but it hurt them in a big way when they missed on drafting Clay Matthews by trading back out of the spot with Green Bay.  The Patriots are a team that is at the cusp of grabbing the NFL by the throat again, but that simply won't happen unless they find a game breaker on offense.  Trading up for a AJ Green or Julio Jones may be the final piece to the puzzle to bring the Dy Nasty back out the pack.
4. The Rams should trade up if they want Julio Jones
At one point it looked as if the Rams would be able to stand pat and grab a top receiver to team up with Sam Bradford.  That now seems like a distant memory after Julio Jones tore it up at the combine- on a bad foot to boot.  The worst case scenario is if Julio Jones is selected by the Redskins… just four picks before St. Louis hits the clock.  There is no way they can sit back and let that happen.
5. The Vikings should trade up if they cannot acquire a veteran QB
I wrote about this in the 32 in 32 series already.  The Vikings are in one of the worst QB situations in the NFL.  That's what happens when you gamble everything on one season.  Sometimes you come up bust, and that is the exact situation Leslie Fraiser finds himself in.  He doesn't really like Tavaris Jackson, Joe Webb is not the answer… but the 12th pick isn't going to net him Cam Newton or Blaine Gabbert.  It is likely that they have a deal in place to acquire a veteran after the CBA is signed.  Is is also likely they could trade back some and grab Christain Ponder.  But if Leslie and Ziggy Wilf were to call and ask for my advice I'd tell them to move up and try to secure the services of THE ICON AND ENTERTAINER…