32 in 32: Who Will The Lions Draft?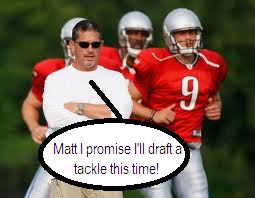 The Detroit Lions finally made a positive step towards getting out of the cellar of the NFL.  Last season, rookie sensation NDAMUKONG SUH came into the league like a bat out of you know where, totally dominating from day 1.   Already a Pro Bowler and looking like a perennial All Pro, drafting Suh was definitely the first domino that will get the Lions back where they want to be.  Grabbing Jahvid Best didn't hurt anything either.
The Lions offense has always had potential to be explosive but Matt Stafford cannot stay healthy.  I loved the grit he's shown in playing injured but eventually the Lions have to find some elite lineman to keep Matt upright.  You are not going to make the next step without your young QB suiting up.  Shaun Hill is a nice backup, and very well could be a starter somewhere else next year but Stafford is the here, now, and future of the Lions.
So who do the Lions need to draft to make that next move? Here are the most likely choices:
1.  Nate Solder OT, Colorado

Solder is a nice tackle and probably the best left tackle prospect in this class.  As said before, you need to protect Stafford and adding Solder will go a long way into keeping Stafford's jersey clean for 16 games.
2. Tyron Smith OT USC
Another OT.  Are you surprised?  Smith is the best right tackle in this class, but many believe that he can go to the left side.   Coming in the combine at a little over 20 lbs above his collegiate playing weight and still maintaining his athleticism, Smith propelled to the middle of the first round.  The Lions may end up liking his potential over another tackle such as Solder or Carimi and go with Trojan.
3. Adrian Clayborn DE Iowa
In the odd chance that the Lion's decide to ignore their offensive line in round one, I see them taking the best DE available to learn under Kyle Vanden Bosch and eventually team with Suh for the next 5 to 10 years.  Clayborn gets the nod here only because the other top prospects Quinn, Bowers, Watt, Jordan, and Aldon Smith are all likely to be gone at this point.  Do not count out Ryan Kerrigan either, another prospect that I really like.