32 in 32: Who Will the Chiefs Draft?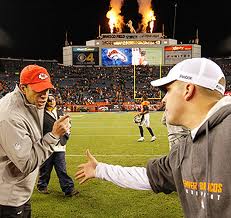 The Kansas City Chiefs made a huge leap from being on of the NFL's worse teams to one of the leagues more feared offenses in just one season.  This success was hugely due to the development of Jamaal Charles, coupled with veteran free agent pickup Thomas Jones, and draftee Dexter McCluster.  The three headed backfield was very tough to stop for anyone last season.  Quarterback Matt Cassell also started to come into his own down the stretch, finding Dwayne Bowe 15 times for scores.
The Chiefs transitioned to a pretty good defensive team as well last season with the emergence of Glenn Dorsey (finally).  Rookie Eric Berry played every bit like the next great safety, and Brandon Flowers was the best corner that no one talked about last year.
But what do the Chiefs need to do in the 2011 NFL Draft to not just get to the playoffs but actually win a game there? Here are their best options:
1. Gabe Carimi OT Wisconsin
Yes, the Chiefs have the young Branden Albert on the left side but as of the time of this post, they only have two other tackles on the roster.  Ryan O'Callaghan and Berry Richardson.  No disrespect to those guys, but the Chiefs would be smart to take Carimi and plug him in on the right side if he is available.
2. Torrey Smith WR Maryland
The Chiefs have a great receiver with Dwayne Bowe but quick- name who is on the other side.  Exactly.  There needs to be another guy there to take the pressure off Bowe to try to recreate his 15 TD season.  Chris Chambers and Kevin Curtis cannot be counted on to play big minutes at this point in their careers.
3. Titus Young WR Boise State
I know Titus Young isn't on most people's first round board anymore, but the Chiefs have shown that if they really like a guy they are not scared to select him a little early.  Would Young be there later? Possibly.  Can the Chiefs afford to miss on him if they think he's the next DeSean Jackson? No.