32 in 32: Who Will The Chargers Draft?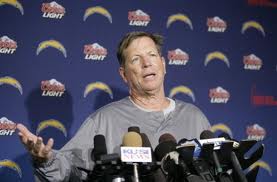 The San Diego Chargers are a team that are constantly knocking on the door of the NFL Elite but fail to get there.  Phillip Rivers and crew have made a habit of losing a lot of games early in the season, to only go on a run towards the end and get into the playoffs.
Last year it did not quite work out the way it was supposed too.  But you cannot simply blame Norv Turner for that.  The Chargers lost arguably 3 of their 4 best players the same year.  Vincent Jackson was suspended, Shawne Merriman got traded, and LaDainian Tomlinson took his talents to the Big Apple.
So who should San Diego look at drafting to get back on the horse and reclaim the AFC West?
1. Aldon Smith DE Missouri
Yes, the Chargers just drafted Larry English but at this moment the a Shawne Merriman replacement is still in need.  Smith projects as a 3-4 OLB in the pros and would add to the stockpile of young pass rushers this team needs going forward.
2.Phil Taylor NT Baylor
Whaaa? Who? I know that's probably what some people are saying right now, but fact of the matter is this.  The Chargers lost Jamaal Williams last season and even if he returns in free agency he is a shell of himself at this point in his career.  Phil Taylor is a massive NT at 340 lbs. and will free up Larry English and Shaun Phillips to do what they do best.
3. Torrey Smith WR Maryland
Is Vincent Jackson going to be there? Will he get traded?  Will there be a CBA? No one knows, but what we do know is that Torrey Smith is probably the third best WR in the class and the Chargers may be looking at adding some young WRs with the uncertainty they have with Vincent Jackson right now.