32 in 32: Who Will the Jaguars Draft?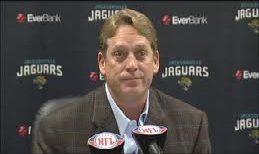 The Jacksonville Jaguars have to be one of the most consistently confusing teams alongside the Houston Texans and San Francisco 49ers.  Some Jaguars games, they look unstoppable on offense.  David Garrard is hitting his receivers with pin point accuracy, Maurice Jones-Drew is bowling over defenders, and Marcedes Lewis is creating mismatches all over the field in the Jaguars favor.  Then there are those "other" Jaguar games.  You know them, the games where the Jaguars play like their defense is on roller skates and cannot stop anyone, those games where David Garrard gets "fumblitis" and MJD just cannot get any running room.
The Jaguars have all of the pieces on offense to be a great team, but the defense is another issue.  The recent draft picks of Terrance Knighton and Tyson Alualu went a long way to fixing the defense but there is still more to be desired as the Aaron Kampman acquisition hasn't worked out as planned.
So where will the Jags go in the draft?
1. JJ Watt, DE Wisconsin
When its all said and done JJ Watt will probably not last until this selection, but if he does there is no way the Jaguars can afford to pass on him.  Aaron Kampman only posted just 4 sacks last year.
2. Ryan Kerrigan, DE Purdue
Kerrigan projects as a 3-4 OLB, but there is always the chance that the Jaguars could still select him in the focus that he adds weight to play the 4-3 DE position.  Kerrigan is a fantastic prospect and may be the best value pick at this point in this draft.
3. Adrian Clayborn, DE Iowa
If Adrian Clayborn is available at this point, then there is a chance that he is the highest rated prospect left on the board.  At 6'3, 283 lbs. Clayborn is a bigger prospect than Kerrigan and looks the part of a true 4-3 DE.  There are character concerns but as long as no taxi drivers give him slack I think he will be alright in that department.