Nation's Top Recruit Curtis Grant Commits to The Ohio State University
Updated: February 2, 2011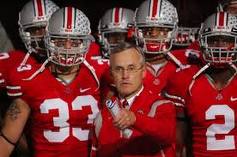 The Buckeyes are reloading as quick as they are suspending players. (I kid, I kid). But this is a nice pick up for their class. Curtis Grant is coming in as a linebacker and will look to fill a long long long list of great OSU linebackers. Many of who went on to NFL fame such as AJ Hawk and James Lauranitis. I still think if Andy Katzenmoyer would have never got hurt he was going to be a special player. But that is a different post for a different day.
Curtis Grant is the #2 overall player in the nation and the highest ranked player to currently commit.
Ohio State already signed Braxton Miller last year, who is probably going to be in the mix as Terrelle Pryor serves his 5 game suspension. The Buckeyes are going to be very young, but they are building a quiet crop of talent I think we all need to keep a eye on!