Kiper and McShay's Draftlab: Scouting the Quarterbacks
Updated: February 15, 2011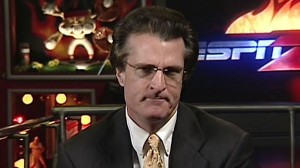 Today ESPN debuted a new segment called "Mel Kiper and Todd McShay's Draft Lab."  Besides the goofy beakers and laboratory theme the segment was rather entertaining.  (Note: ESPN if you're going to make them carry beakers, why not make them wear lab coats too? )
Mel's top 5 Quarterback list was the following:
Blaine Gabbert
Cam Newton
Ryan Mallet
Jake Locker
Andy Dalton
McShay 's list moved Cam down and elevated Jake Locker:
Blaine Gabbert
Jake Locker
Cam Newton
Ryan Mallet
Andy Dalton
Kiper even went on to say that in 5 years we will look back and see the best physical talent in the draft was Cam Newton.  No arguements there, it could defnitely happen but we know how foolish Mel has been in the past saying things like Jamarcus Russell is the next John Eway….
Mel also said his red fag was on Ryan Mallet.  Not because of the rumors you can read on forums, but because Mallet couldn't lead his team from behind in big games. Fair, fair, I can definitely see that.
However I tend to lean a little closer to Todd McShay's analysis.  He said that Blaine Gabbert's accuracy would make him the best talent out the bunch in 5 years.  Though I am not sold on Gabbert at all, I have to strongly agree with Todd's take that Cam Newton is the biggest red flag because he comes from a system that's hard to translate into the pros and there may be maturity issues to boot.
Andy Dalton was the consensus "under the radar" pick and compared to Jake Plummer.
The NFL Draft will air on ESPN April 28, 2011.