Jake Locker Admits He Needs to Put More Work In
Updated: February 3, 2011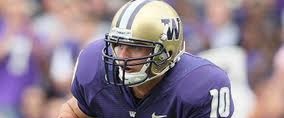 As we get closer and closer to the draft, some players are being nitpicked to death. Jake Locker, who by all looks of it seems to be a pretty good guy, is getting destroyed by draft analysts left and right. Well that's what happens when you complete a single-digit amount of passes the two times you see a decent defense vs. Nebraska. But still he seems to be a very likeable guy, and if he doesn't make it in football he will fit right in a MLB clubhouse.
He did an interview today with Scott Van Pelt on ESPN. Van Pelt asked him what he was going to work on when he got to the pros and Locker said he needs to put more time in off the field, watching film like the game's great players do. Great answer. He also admitted that he needs to take more reps and focus on getting his footwork under him. It's not often that a prospect openly admits his huge flaw, and I have gained a lot of respect for Locker for doing so publicly.
I've always called Jake Locker "the baby Jay Cutler" because they are so similar to me physically but I think Locker may be a more personable version of good ol' Jay from Vandy.  And if he gets his footwork under him, he may end up being even better than Jay sometime down the road.
Mel Kiper has Locker ranked at the 4th best QB behind Blaine Gabbert, Ryan Mallett, and Cameron Newton.