Blaine Gabbert Not Throwing At the Combine, Newton Will
Updated: February 22, 2011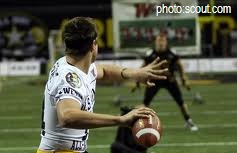 I got this bit of news sent to me a few hours ago.  Cam Newton has decided that he will throw at the combine, and Blaine Gabbert… won't.  Wait a minute, the QB with all of the "questions" surrounding him has no hangups about throwing private taped workouts, and throwing live for the scouts at the combine but the "top QB prospect" does?  Something just seems funny there.  If I am an NFL team I am taking a second look at Blaine Gabbert and Cam Newton.  Newton is seemingly doing everything right, and is probably the hottest QB prospect climbing the boards.  Unless Newton is caught with a DUI or something similar, I think that he will be a top 10 pick in this draft.
There is a long way between now and the draft with team pro days and the combine on the way.  Gabbert will throw on March 17th at his pro day.
Can Cam Newton close the gap on Gabbert?  Is he going #3 overall regardless?  Or are both QBs going to freefall? Things are about to get VERY interesting.