Aaron Rodgers Beats Alex Smith to First Superbowl Ring
Updated: February 8, 2011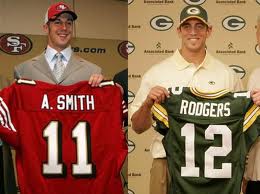 Remember in 2005 when we were all arguing Alex Smith or Aaron Rodgers? Smith came from that undefeated Utah team with Urban Meyer as coach and was touted as the "hardest working player in the draft" after graduating from Utah in 3 years and fulfilling his duties as a football player.
Wait. A player getting hype from an Urban Meyer offense, on a undefeated team, and is "hardest working QB in the draft?" This is beginning to remind me of someone….
That is another post for another day. I'll table that discussion until the time comes.
Anyways, when draft day came, Smith went #1 overall, and Aaron Rodgers was left in the green room for the next 20 selections as 18 other teams passed on him (the Vikings selected Troy Williamson and Erasmus James before him, OUCH!) 
I remember it like it was yesterday.  Chris Berman shouted "pick him!" as if he ran an NFL team and he was going to pay Aaron with magic monopoly money.  Nevertheless the Packers decided to select Aaron Rodgers and the controversy began.  Would Brett Favre retire? When would Rodgers get his chance to play?
Smith went on to become a "bust" in most people's eyes, playing for a different offensive coordinator every year while Rodgers got to sit and watch one of the best to ever do it.  When Rodgers finally got to play he started off rough, as Skip Bayless won't let anyone forget, going 6-10 after being in the NFC Championship under Favre the previous year.
I even posted that season during the 2008 preseason:
Regardless of the fact that Aaron has started exactly (1) Preseason game for his whole career, I can confidently say that he is leagues better than Smith. I knew that in the draft, Rodgers' height would work against him and Smith's inflated numbers from the spread offense would get him picked earlier.
Well Aaron Rodgers has proved all the doubters wrong and beat Alex Smith to his first Championship ring.  There is no doubt that Rodgers is a fantastic player, a top 10 QB no matter how you order them.  But is Smith a bust? I'm not so sure.  There is no way we can go back and redraft Smith to the Packers and Rodgers to the 49ers but it is beyond clear that the different paths these players careers have had a huge impact on the type of players they have become so far.