76.32% Would Rather Have Rodgers Over Roethlisberger
Updated: February 5, 2011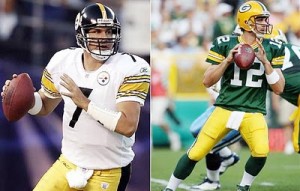 A few days ago, I proposed the following question to everyone.  "If given the #1 pick and Aaron Rodgers and Ben Roethlisberger are in the same draft, who would you take?"  I asked this question on Twitter, and here on this blog.   I was expecting it to comeback about 50-50 with Rodgers taking a slight lead because he is the new hot QB in the NFL.
Boy was I wrong.
After 511 votes, Aaron Rodgers is the clear favorite at a 3-1 ratio, winning over 75% of the votes (390 in total to Ben's 121).
I have some theories as to why this may be.  First of all, Rodgers is the new hot name in the NFL, just as Drew Brees was last year.  Your casual fan is just now getting a chance to watch Rodgers play multiple times and he is playing pretty well so far in the playoffs.  Your casual fan also hates that Brett Favre was the reason why this "new" Rodgers guy didn't get to show his skills for a while.  Also your casual fan dislikes what Ben Roethlisberger allegedly didn't get away with last summer.
But everyone who reads this blog is not a casual fan so why did the knowledgeable fans go with Aaron over Big Ben and his TWO rings?  I have a theory on this as well.  Ben Roethlisberger is pretty much the ugliest winning Quarterback in the league right now in terms of style of play.  Ben throws a lot of "dead ducks", extends plays to the point he's no longer running what was called in the huddle, and he will rumble and stumble through a defense for an ugly first down on foot.
Rodgers is almost the complete opposite.  He has  the picture perfect timing on his throws, is very fast for a QB, and can throw a spiral with the best of them.  But one thing he doesn't have is a championship.  The knowledgeable fan knows that Rodgers has all the qualities of a franchise player and is that rare blend of natural and athletic talent needed to excel at the position, where as Ben is more of a natural who on first look doesn't look like a multiple Super Bowl winner.
I personally voted for Ben because I respect the rings. I have to admit it, I really don't even like Ben Roethlisberger or the Steelers but I respect winners.  I respect the way they came back from 7-21 in the second half and closed the door on Baltimore.  I respect the way Ben marched the Steelers down the field against the Cardinals to come from behind and and win a championship.  He may not be the prototypical QB, but he is a winner (on the NFL level, Tebow nation) and I have nothing but respect for that.
So If I had the #1 pick and knowing what I know now, I take Ben Roethlisberger.  I know I am not going to always like how he gets it done, but I know he will find a way.  Rodgers has much left to be seen, but right now I'm going with Ben and his unorthodox style of winning.
Click here to see the full poll results!