4 Sleepers I Am Keeping An Eye On
Updated: February 21, 2011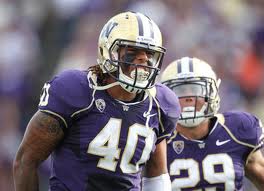 The NFL Draft is rapidly approaching.  Many bloggers and pundits are talking about guys they think are "sleepers."  Everyone's definition of sleeper is different, but to me a sleeper is a guy that isn't getting much media attention and is a likely 2nd or 3rd day pick with 1st round talent.
So to jump on the bandwagon a little, here are five sleeper players to keep an eye on in the 2011 NFL Draft:
1. Ahmad Black Safety Florida
Playing in the SEC kinda of disqualifies you from being a sleeper, but Ahmad Black is a guy that doesn't get the attention he should probably be getting right now.  Playing next to the flashier Will Hill, Black gets overshadowed a bit but when it is all said and done he may be the better pro.  Being undersized will hurt his draft stock but with guys like Bob Sanders and OJ Atogwe getting released do not be surprised if someone trades back into a round to grab Ahmad.
2. Dwayne Harris WR ECU
Yes, the homer pick but playing in the C-USA you don't get much shine, and Harris is a guy that many have not heard of but will soon.  Though his official title was wide receiver, Dwayne Harris was Mr. Do It All for ECU, returning kicks, catching passes, getting handoffs, and even throwing once every now and then.  Harris is a guy that may never be a star in the NFL but he will quietly impact games with his returns and knack for making big catches in big moments.  In every aspect he reminds me of Antwaan Randle-El.
3. OLB Mason Foster Washington
Guess who led the Pac 10 in tackles this year?  That would be Mr. Mason Foster.  Foster is a guy who is just flat out productive.  While that does not always translate into the same kind of pro career Foster is a guy with a nose for the football and pretty good football instincts.  He won't be a starter from day 1 but with a year or so in the right system he can become a very productive pro.  Some 4-3  team is going to grab Foster in round 3 or 4 and won't be sorry they did.
4. Jacquizz Rodgers RB/WR Oregon State
EDIT: I a commenter reminded me that James got a medical redshirt so he wont be in the draft.  (But my sentiments remain the same)
I have to put both of the Rodgers brothers on this list, as I really like both of their pro chances.  If I had to lean to one I'd lean to RB Jacquizz being the better of the two but both are extremely explosive players and will find a niche whether it is in the return game or on one of the NFL's quasi spread offenses.