32 in 32: Who Will the Cowboys Draft?
Updated: February 24, 2011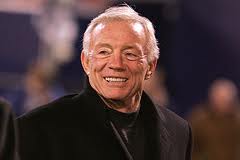 Ah, the Dallas Cowboys.  The most talented team in football, allegedly, that has won I believe only one playoff game since the 90's.  Yeah hard to believe they get so much hype but they are still among the most popular teams in the league and they play in the NFL's best stadium.
Team owner Jerry Jones let Wade Phillips go and finally promoted offensive coordinator Jason Garrett to head coach.  With that came a new sense of discipline and focus.  The Cowboys were quietly playing some of the best ball in the NFL down the stretch but they had already lost too many games to make the playoffs.
There are a lot of issues looking forward.  Starter at QB, Tony Romo, is coming off a season ending injury.  Will he be 100%?  Dez Bryant also was injured as well.  Marion Barber seems to be approaching the end of his prime years, is Felix Jones or Tashard Choice ready to step in?  There are lot's of questions on the offensive line as well do they need a replacement there?
Here are the Cowboys most likely 2011 NFL draft choices:
1. Nate Solder OT Colorado
The Cowboys should look at addressing the OL first and foremost.  You just can't go on another season losing your QB to injuries.  Solder is currently among the top offensive tackles in the draft.  I believe when all the drills are over he will grade out just slightly of our #2 guy…..
2. Tyron Smith OT USC
Tyron Smith is an extremely talented lineman as well, but here is the deal with him.  He is a right tackle.  Always has been, and should be in the pros.  If you draft him you should understand you are taking a right tackle and not just a offensive tackle you are going to throw where you need him.  He is only 280 lbs as well, and that could also be an issue going forward, depending on if he can gain a few pounds.
3. Jimmy Smith CB Colorado
Jimmy Smith is not getting a lot of attention but he is the best CB not named Pat or Prince in this draft.  Mike Jenkins played well, but the Cowboys can always use CBs.  In a division with the pass happy Giants and Eagles you have to have as many good DBs as possible and Smith is a top corner to add with Jenkins.
Also do not rule out Ryan Mallet QB Arkansas.  It may not happen in the first round, but if Mallet is still there when the Cowboys pick later on in this draft Jerry Jones will think long and hard about it.  He is an Arkansas alum and has never had the chance to draft an Arkansas QB as his Cowboys QB  (Matt Jones does NOT count).  It would be the ultimate homer selection but do not rule it out! Especially if Mallett slips to round 3!