32 in 32: Who Will the Carolina Panthers Draft?
Updated: February 10, 2011
This is a new series I am doing, called 32 in 32.  We will break down every pick in the first round of the NFL Draft and give you the top 3 picks for every team! This should be fun.  If you disagree, feel free to yell at me in the comments or on Twitter.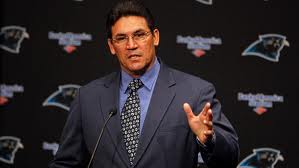 So who will the Panthers draft?  This season the Panthers had one of their worst seasons in team history, and ended up securing the #1 overall pick in the draft.  Long standing coach John Fox was booted and Ron Rivera inherited a team that is extremely young on offense with a 2nd year QB, two 2nd year receivers, and with his #1 offensive threat RB DeAngelo Williams a free agent.
So with all that said, Carolina is looking at the following options #1 overall.
1. Nick Fairley DT Auburn
Nick Fairley has absolutely dominated this year in the SEC, enroute to a National Championship.  He looked like a man amongst boys, many times bullying other players with questionably legal hits, and changing the game with his ability to penetrate the pocket quickly.  The Panthers need a force to go on the line with Charles Johnson, and a player to replace Julius Peppers' dominance.
2. AJ Green WR Georgia
Jimmy Clausen absolutely struggled last year.  This year will be the year he makes it or breaks it as a QB.  The problem is that he played last year without more than half his starting offensive line, DeAngelo Williams, Jonathan Stewart, and Steve Smith played the entire season with a cast on his injured arm.
That lead to the Panthers primarily deploying Mike Goodson as their lead back with rookie WRs David Gettis and Brandon Lafell as the starters outside.  The Panthers would like to add a young superstart at WR and trade Steve Smith to a contender so he'll have a chance to win a ring.  AJ Green would solve all those issues in one. But #1 overall, a WR may be too high a perceived risk for a new coach to start with.
3. Daquan Bowers DE Clemson
Once again, the Panthers are missing Julius Peppers in a big way.  Ed Hardy and Everette Brown have not been able to replace the All Pro's talents so far.  Selecting Bowers puts a force across from Charles Johnson, and seemingly replaces Peppers.  The only issue here is if the Panthers are convinced Bowers' is worth the #1 selection.  Many have perceived him as a "one year wonder."