32 in 32: Who Will The Buffalo Bills Draft?
Updated: February 13, 2011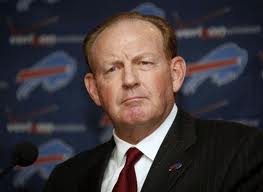 The Buffalo Bills are an interesting bunch.  I've called them the "hardest team to project in the draft" and with good reason.  We have seen them take Donte Whitner at #8 overall and not bat an eye.  We have seen them draft many, many, players in the first day that were probably taken too early and ended up in "bust" status.  Just this season Yahoo! Sports named former first rounder Aaron Maybin as football's worst player.
So who will they go with this season? I believe it comes down to these three options in this order:
1. Cameron Newton QB Auburn
I am not riding the hype wave of Cam's media workout in shorts and a T Shirt.  For many weeks now I have privately projected this pick and I am now going to go public with it.  I think the Bills are drafting Cam Newton.  Why?  Just last year they were enamored with Tim Tebow and apparently set to draft him in the second round but Denver traded up before that could happen.  Ironically, you can look at Cam Newton as the bigger, better, version of Tebow and one hell of a consolation prize for losing the TT Sweepstakes last year.
The Bills need a new "face of the franchise" to lead them into the next decade of pro football, and current starter Ryan Fitzpartick is a nice backup but not the quality of a passer you want for all 16 (or 18) games.  Cam Newton gives this franchise a jolt of electricity and brings them out the dark ages they've been in since Drew Bledsoe went to Dallas.
#2 Marcel Dareus DT Alabama
Dareus could be the third D lineman taken in a row if the Broncos go with Bowers and the Panthers grab Fairley.  Dareus is extremely versatile and playing next to Marcus Stroud will only make the transition easier for him.  The Bills need some sort of pass rush since Aaron Maybin isn't doing it for them.
#3 Von Miller OLB Texas A&M
Yes, Von Miller could go this high.  The Super Bowl has shown the NFL that every team needs an elite pass rusher and everyone knows its a copycat league.  Teams that need a rusher like the Bills will be looking to grab that kind of game changer.  Who really cares about his weight or size, the kid can flat out rush the passer and that is something that cannot be taught.  Miller was all the talk down at the Senior Bowl and in many circles it is believed that he could go as high as #2 in this draft with no clear cut "cant miss" guys at the top of the board.