32 in 32: Who Will the Broncos Draft?
Updated: February 12, 2011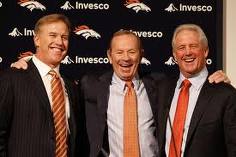 Continuing with the new 32 in 32 series let's take a look at my favorite team, the Denver Broncos.  Now I won't get too personal in how I feel the Broncos should draft but rather let's look at this from a logical standpoint as to what will probably happen.
John Fox comes in as the new head coach after the train wreck that was Josh McDaniels' tenure in Denver.  McDaniels drafted five, yes five first round picks in two years and depending on what you think about Tim Tebow all five may turn out to be busts.  Knowshon Moreno has just one 100 yard rushing performance in two years, Robert Ayers made no noise even after Elvis Dumervil's injury, Alphonso Smith is no longer a Bronco (not a first rounder, but a first rounder was traded to get the selection that drafted him), Demariyus Thomas' career may be already over due to injury, and Tim Tebow is a huge question mark so far.
So to say that Fox has to start his tenure off with a pick that will make a difference is an understatement. Here are the top three selections I see the Broncos making:
1. Daquan Bowers DE Clemson
A lot of fans may be weary about this selection but it does make logical sense.  The Broncos need a young playmaker on the defensive line, and Bowers will be the best player that fits that bill once Carolina selects Nick Fairley #1 overall.  The only "knock" on Bowers is that he has had a one year meteoric rise to the top of the draft board, but in all reality it's not really a knock at all.
2. Marcel Dareus DT Alabama
What? Yes another defensive lineman should be considered before looking elsewhere.  Dareus has had two very solid years in the $EC, including last year's championship run.  Dareus is a guy that can play DE or DT and while he doesn't have the hype of a Nick Fairley he may end up being the better pro once it is all said and done.  The Broncos desperately need a young, athletic player on that defensive line and if for some reason they don't believe in Daquan Bowers' they could look at Dareus as their guy.
3. Patrick Peterson CB LSU
Champ Bailey's contract situation is in a perpetual state of limbo as I type, and if he decides that the grass is greener elsewhere the Broncos would need a young corner to fill the void.  Perrish Cox is facing jail time and cannot be counted on to be that guy.  With that said would the Broncos go with Peterson?  They likely could.
Peterson gives value as an elite kick returner and some think he is a "can't miss" corner prospect.  While others see his struggles with bigger WRs as a red flag.  It would not be the worst pick in the world, but the Broncos' defense has been terrible for almost eight years now and you have to really wonder if a defensive coach who just had Julius Peppers on his defense would really rebuild from the outside-in? Not likely.