What We Learned in Championship Weekend About the NFL Draft
Updated: January 24, 2011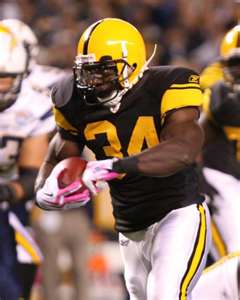 So everything is in the books and an exciting year of football is coming to an end.  I would be sad, but the NFL Draft is coming right around the corner! Christmas in April!
This weekend we saw the Packers and the Steelers punch their tickets for the 45th NFL Superbowl game.  Both games were close and came down to just a one possession difference.  So what did we learn when it comes to the draft?
#1. To Be Elite, You Need an Elite Quarterback
Say what you want about the teams that were one game away from the Superbowl, but one thing you can't take away from them is they they all have elite (or near elite, Mr. Sanchez) quarterbacks.  The Bears traded away a kings ransom to get their guy in Cutler from the Broncos, while the other three teams all acquired their guy in round 1 of the NFL Draft.  That should tell you something about the talent level that is required at the quarterback position.
There is no room for "developmental" prospects, option quarterbacks trying to become real passers and the like.  You must have a guy who's ready to come in and carry a team from day one if he has to.  He has to be the reason why you win and lose.  The Jets have made strides with Mark Sanchez much the same way the Steelers did with young Ben Roethlisberger.  Sanchez is now the reason they win or lose, and they no longer win in spite of their young passer.
#2. You Need an Elite Defense Too
Once again, the teams that came into the game all have elite defenses.  The Packers are elite pass rushers.  The Bears and Steelers are fantastic against the run. And the Jet's "CAN'T WAIT!" to remind us why they were "THE THIRD BEST DEFENSE IN THE LEAUGE!!!" Shout out to Bart Scott.
All four teams have an elite linebacker as well.  The Bears have Lance Briggs, the Packers have Clay Matthews, the Steelers have James Harrison, and the Jets have David Harris.  All four of those players can change the course of any game in any one play.  Any team that doesn't have a player like this in their front seven needs to find one, quickly.
#3. You Don't Necessarily Need Big Name Receivers and Defensive Backs
The Bears made it within 15 minutes of going to Dallas with a receiving corps that is largely made of players that your average football fan can't name.  The Steelers as well.  Both teams have a lot of young guys who just get open and give their QB a shot to make a play.  You dont need to spend $19 million per year if you have dependable guys who can get the job done.
The Jets have the big name receivers, as do the Packers but are their big names truly elite?  Are Braylon Edwards, Santonio Holmes, Donald Driver, and Greg Jennings in that Andre Johnson, Larry Fitzgerald category? Nope. Not by a long shot. They are in that "very good" category just below that.  Teams drafting this April could be better off looking to fill out their receiving corps instead of drafting one big name (anyone know what happened to Limas Sweed?)
#4. You Have Got to Find Some Kind of Running Game By January
Out of the teams that made it to the championship, the Packers are probably the team with the worst running game (largely due to injury) but they will be representing the NFC because they found a way to run it just enough with James Starks to keep defenses on their toes.  The Steelers, Jets, and the Bears both used first day selections on their backs who played a key role for them all year.
Teams that don't have a reliable runner need to make some sort of play for one late in the season, possibly even signing guys off other team's practice squad just to see what's out there.  Winning without controlling the clock is simply not going to happen against the caliber of defenses in the playoffs.