Von Miller Will Be a Top 3 Draft Pick?
Updated: January 28, 2011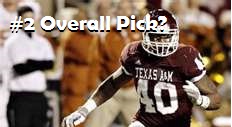 As more news from the Senior Bowl comes out, the man stealing the show is Texas A&M's Von Miller. Already in many draft experts top 10 (Ive had him in my top 10 almost 2 months now), people are now saying that he will be a top 3 pick!
Here are some tweets that have come across the twitterscope on Mr. Miller:
Adam Schefter tweeted:
To those asking where Texans A+M LB Von Miller will go in the NFL draft, the early signs are, Top 5 pick.
Scott Wright (DraftCountdown.com) tweets:
Please Remember Who Had It 1st! DraftCountdown.com RT @drmoyer421: @ShanePHallam Looks like Von Miller to Buffalo at 3 may be correct pick!
So that means the Panthers, Broncos, or Bills will make the move to grab Miller off the board early. Of these teams I think the Broncos or Bills is the best fit. Carolina will go with Fairley or Bowers most likely. Denver needs anything they can draft on defense, and the Bills as well.
Everyone update your mocks!